Event
2 Aug 2021
6 min read
Why a joined-up platform streamlines the connected witness lifecycle

Opus 2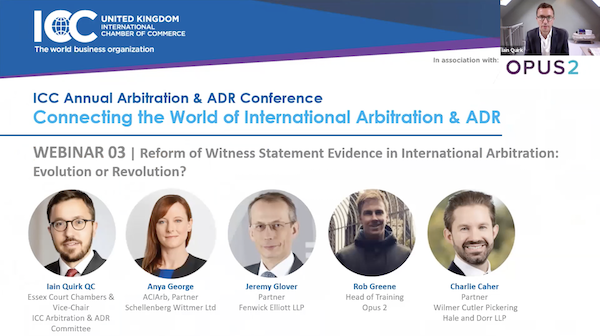 As part of the ICC Annual Arbitration & ADR Conference, which took place in June and covered varied subjects, from climate change-related disputes and arbitration, to med-arb, Opus 2's Head of Training Rob Greene took part in a webinar, "Reform of Witness Statement Evidence in International Arbitration: Evolution or Revolution?".
The panel featured Anya George, ACIArb, Partner at Schellenberg Wittmer, Jeremy Glover, Partner at Fenwick Elliott, and Charlie Caher, Partner at Wilmer Cutler Picking Hale and Door. The session was chaired by Iain Quirk QC, of Essex Court Chambers and Vice-Chair of the ICC Arbitration & ADR Committee.
The panel discussed questions around the reliability of witness statements and evidence in international arbitrations, agreeing that many factors can distort or interfere with witnesses' memories, including how submissions are prepared or questions are asked during proceedings.
Presentations focussed on:
The findings and recommendations of the ICC Commission Report on The Accuracy of Fact Witness Memory in International Arbitration, which focusses on whether honest witness evidence is indeed reliable.

The new rules on the preparation of witness evidence, which came out in April 2021 and apply to Business and Property Courts in England and Wales, and whether they might have any relevance to the practice of international arbitration.

Whether there is a cultural divide between lawyers with civil or common law backgrounds in respect of the preparation of facts witness evidence, potential shifts in practices between the two traditions, and any possible consequences for arbitration.
Rob's presentation centred around a connected witness lifecycle in dispute proceedings, and he gave a comprehensive demo into how the Opus 2 solution can streamline witness statements, as well as how it enables case teams to securely collaborate via one centralised platform.
Technology streamlines processes at every stage
Rob explained that the connected witness lifecycle in dispute proceedings can be broadly categorised into three phases: preparation, pre-hearing and hearing.
Since March 2020, Opus 2 has successfully delivered more than 1,000 hybrid and virtual hearings, serving over 630 clients worldwide, streamlining how teams interact at all stages of the case.
Collaborate throughout preparation
With the Opus 2 platform, legal teams can access documents from one secure location and allows them to add notes, questions, or 'tag facts' and review these collaboratively.
In some cases, legal teams can also extend restricted access for key witnesses, which enables them to add notes and answer questions directly on the document.
The team can create a separate 'custom bundle', so the witness has direct access to specific documents in one easy-to-access location, which saves time when It comes to navigating to the relevant documents.
Secure your documents
Reviewing notes on each document can be difficult when there's a lot to look through. To save time, Opus 2 enables users to view notes in one central location where they can read and respond directly, rather than having to remember which document contains questions and then having to search through the bundles to find the document in question.
Rob explained:
"Once the witness statement is finalised and uploaded onto the Opus 2 platform, it is automatically hyperlinked to all the related evidence. This can then be provided to the witness and everyone else on the platform, so they can complete preparation ahead of the hearing… Everyone is then able to refer to [the hyperlinked] documents without having to cross-reference back and forth into the bundles each time they see a reference made to a particular document – they can go straight to the relevant material."
Provide clear, familiar documents during the hearing
When it comes to giving evidence, the electronic presentation of evidence (EPE) will show the witness a clean version of the document they are being examined on, making sure there are no notes or annotations that could hinder the hearing.
If the hearing is taking place in person, the EPE will be shown on a screen in front of the witness, but if the hearing is virtual, the operator will display documents via the virtual hearing platform for all participants, including the witness.
By allowing the witness to review and collaborate on documents they are being examined in the preparation phase, they can go to the hearing having familiarised themselves with what they will be presented with.
Evolution or revolution?
The panelists also shared other interesting insights during the webinar, including the question of how the authenticity of witnesses and the tampering of evidence can be dealt with in online arbitrations and how virtual hearings will affect witness evidence.
To find out more, watch the full webinar below.

Subscribe to our insights
Receive our quarterly email newsletter with the latest news, events, and industry insights from Opus 2.
Complete the form to sign up
By clicking 'Submit' you agree to opt-in to receive Opus 2 Insight quarterly newsletter, and for Opus 2 to process your data as outlined in our Privacy Policy.