Event
7 Jun 2021
6 min read
Reflecting on the London International Disputes Week 2021

Opus 2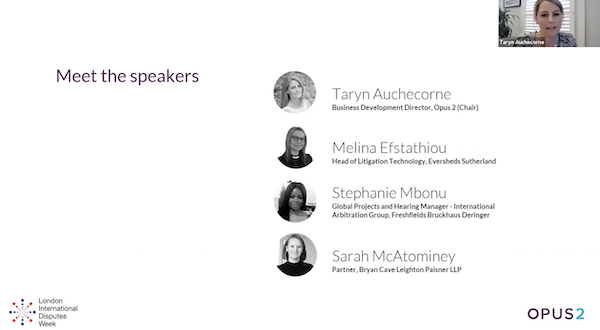 We were delighted to have supported and taken part in this year's London International Disputes Week (LIDW) 2021 as Gold Sponsors. Hailing high-profile figures from the legal sector, government and business, the week-long event in May tackled the subject of 'Looking forward: change, challenge and opportunity'. Held in the wake of the Covid-19 pandemic, post-Brexit and amid an uncertain global political environment, the event came at a significant time for the UK legal sector.
Our very own Chief Commercial Officer, Oliver McClintock featured as a panellist on day one of the event alongside Julian Acratopulo, Partner, Clifford Chance, Maria Gritsenko, Associate General Counsel and Interim Head of Legal for Kyrgyzstan VEON, Jacomijn van Haersolte-van Hof, Director General, London Court of International Arbitration (LCIA)- John Howell OBE, MP. The session, 'London and the New, Decentralised Disputes Resolution Landscape' was chaired by retired Court of Appeal judge Dame Elizabeth Gloster, now an arbitrator with One Essex Court.
The lively discussion saw the panellists agree that London continues to be the major seat of international dispute resolution proceedings, despite the challenges posed by both the covid-19 pandemic and Brexit. This trend was also reported in the International Arbitration Survey produced by Queen Mary University of London in collaboration with White & Case. Much of this can be attributed to the popularity of English law, for example, banking cases are common because loan agreements are typically governed by English law, inevitably leading parties to London as highlighted by Jacomijn van Haersolte-van Hof.
A rapid response from UK courts and arbitration centres
But more than just familiarity breeding success, it is the UK's ability to adapt quickly that has seen London continue at the forefront of dispute resolution proceedings. With courts making the decision to remain open throughout the pandemic, despite not having everything they needed in situ from the beginning. "Adoption of technology in the London market was swift, with courts and arbitration centres implementing new hardware and solutions early on in the pandemic" explained Oliver. It is this rapid response from the courts and arbitration centres to update their infrastructure that has been critical to success, "it does feel like we led the way" Oliver added. The marked change in the way courts and arbitration centres functioned during this period seems set to stay. With the huge financial investments made so far according to McClintock it has "[left] London well-placed to cater for virtual and hybrid hearings".
Has technology 'disappeared into use' within dispute resolution proceedings?
Continuing with the theme of technology, we hosted a webinar panel session titled 'Has technology 'disappeared into use' within dispute resolution proceedings? '. Taryn Aucherhorne, Opus 2's Business Development Director, was joined by Melina Efstathiou LL.M, Head of Litigation Technology, Eversheds Sutherland, Stephanie Mbonu, Global Projects and Hearing Manager - International Arbitration Group, Freshfields Bruckhaus Deringer and Sarah McAtominey, Partner, Bryan Cave Leighton Paisner LLP.
During the session, the panel explored several questions including:
How are legal teams rethinking the way they work and prepare for a case?
What challenges or opportunities is technology addressing in modern dispute hearings?
What are some of the considerations for different stakeholders when choosing a technology solution to power their dispute resolution proceedings?
Firms are embracing technology in new ways
Panellists discussed their own individual experiences of how technology adoption has impacted their areas of work and the sector at large.
"There's definitely a lot of earlier outreach to technology experts requesting input in scoping phases of legal cases," said Melina, however, "since the introduction of lockdown, the fact that we had to very, very quickly adapt to the use of technology in various ways, only made legal teams realise that they need to be reaching out and seeking guidance and advice much more proactively".
This sentiment was shared by Stephanie Mbonu - whose experience in the last 14 months had reflected that of Melina's - technology was already being widely adopted but this process had been expedited. The residual reluctance that once proved a barrier to adoption was shifting out of necessity "I think one of the outcomes of the last 14 months for me, is that my job of trying to convince colleagues to trust the tech, has become a little bit easier, as everyone has been forced to embrace tech in ways they never previously expected to."
Early adoption is gaining momentum in light of the pandemic
For many large firms the adoption of technology was already well underway however it's the point in the lifecycle of a case, or project at which solutions are now being embraced that is changing. "firms have reached a point whereby they are adopting tech solutions in litigation much earlier on in the case, so clients benefit from the efficiencies, and so the legal teams find it easier to work." Said Sarah McAtominey a Partner at BCLP.
Across the panel there was agreement that technology adoption has accelerated in all parts of dispute resolution proceedings, yet there was still more to be done "I definitely think there is a drive to bring it in, I just think the bottleneck still exists in certain areas down to lack of correct understanding and sufficient knowledge" said Stephanie Mbonu.
The big question!
And the answer to the big question, 'Has technology 'disappeared into use' within dispute resolution proceedings?', posed both at the beginning and the end of the webinar… the results speak for themselves: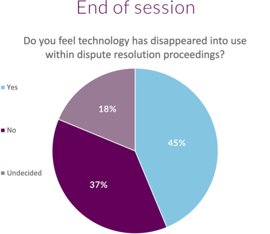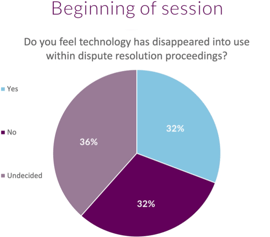 Subscribe to our insights
Receive our quarterly email newsletter with the latest news, events, and industry insights from Opus 2.
Complete the form to sign up
By clicking 'Submit' you agree to opt-in to receive Opus 2 Insight quarterly newsletter, and for Opus 2 to process your data as outlined in our Privacy Policy.