Event
1 Sep 2020
5 min read
Opus 2 & Maxwell Chambers - arbitration hearings after COVID-19

Opus 2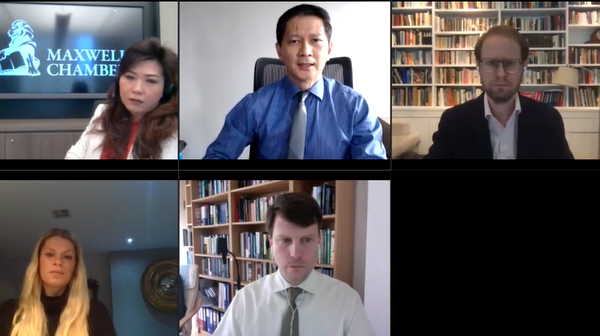 Opus 2 and Maxwell Chambers recently hosted a webinar entitled 'From virtual to hybrid - navigating arbitration hearings after COVID-19'. This was chaired by Timothy Cooke, Partner at Stephenson Harwood, who quizzed the expert panel you can see below on various benefits, challenges, top tips, and future developments for virtual and hybrid hearings, with some fascinating points raised.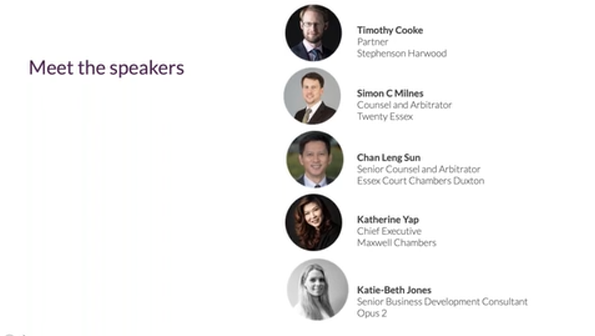 From counsel's perspective, Simon C Milnes addressed some of the key differences when presenting a case in person compared to the virtual experience, pointing out some positives: "You can watch the arbitrator whilst cross-examining a witness at the same time. That's something which is very difficult to do in an in-person hearing without looking like you're watching a tennis match! It's extremely useful to see the arbitrator's reaction to how the testimony is going."
Examples of challenges included that an adjustment to a slower rhythm may be required due to audio delay, and dependence on interpersonal cue such as body language or eye contact can be lost to an extent when conducting a virtual hearing. However, Simon proposed interesting solutions regarding cross-examination: "Certain styles of cross-examination don't work - the old fashioned, traditional style that's rather vehement and depends on a fast pace or sense of pressure doesn't really work over video. More low-key styles can work just as well if not better."
From addressing the current climate, the panel closed their discussion by moving on to what the future may look like. Chan Leng Sun suggested that, while virtual hearings are here to stay, other technologies could begin to have greater influence, saying: "There is a lot of talk from users about AI in dispute resolution. Not for the purpose of adjudication, but for example, processing huge amounts of data and documents in a complex arbitration. This is where service providers, counsel, and arbitrators can make use of developments in this area."
There was also input on the potential positive environmental impact there could be from utilising virtual hearings. Simon flagged a study in partnership with Dechert LLP which suggested a typical medium to large commercial arbitration could result in a footprint of 418,000 tonnes of carbon dioxide, or the equivalent of 26,000 trees.
The webinar's 74 attendees also took part, as they were surveyed before and after on their answers to the question "If travel restrictions were lifted would you still prefer to conduct hearings virtually?". The results before were evenly split between "Yes", "No" and "Undecided". After the webinar, though, there was an 8% increase in those who said "Yes", the majority of whom were previously undecided.
Watch the full webinar here. Opus 2 would like to thank all those involved, and we look forward to further informing our customers of the virtual and hybrid hearings world.

Subscribe to our insights
Receive our quarterly email newsletter with the latest news, events, and industry insights from Opus 2.
Complete the form to sign up
By clicking 'Submit' you agree to opt-in to receive Opus 2 Insight quarterly newsletter, and for Opus 2 to process your data as outlined in our Privacy Policy.