Press Release
9 May 2022
4 min read
Opus 2 launches subscription-based solutions for law firms & chambers

Opus 2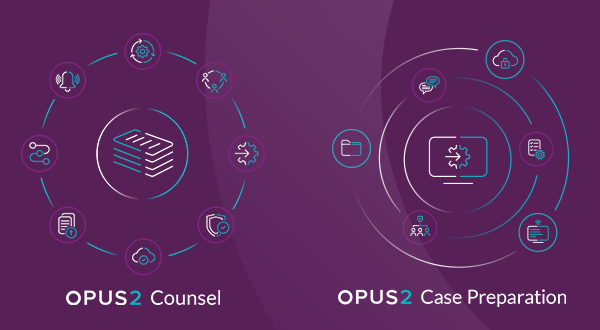 London – 9 May 2022 – Opus 2, the leader in cloud-based solutions for the legal sector, has launched two new, complementary solutions – Opus 2 Case Preparation for law firms and Opus 2 Counsel for barristers' chambers. Both solutions have been developed in consultation with market leading practitioners and are available on a user subscription basis to enable their use across an unlimited number of matters regardless of size and complexity.
Since 2008, thousands of law firms and their clients, including the top 50 international law firms, have relied on Opus 2 to deliver hassle-free, connected document and transcription services for in-person and remote hearings in litigation and arbitration in over 110 countries. These new solutions enable Opus 2's capabilities to be used at an earlier stage in matters of all sizes and transition seamlessly into Opus 2 Hearings.
For law firms, Opus 2 Case Preparation provides a single, secure, connected work environment for legal teams, their clients, and other stakeholders across the whole lifecycle of a matter. It can be customised to fit a firm's best practices and provides holistic support across secure file sharing, bundling, argument preparation, chronologies, and extended collaboration. It delivers significant efficiencies over and above disparate tools and enables law firms to better differentiate their services and deliver greater value to their clients.
For barristers' chambers, Opus 2 Counsel, enables barristers to work across all cases in a single, secure solution. It manages the documents and bundles provided by instructing parties, provides an intuitive workspace in which to analyse documents, and simplifies the barrister-clerk administrative workflows.
Commenting on the launch, Martin Coen, Chief Executive Officer at Opus 2, said:
"Many of our dispute resolution clients have been asking us to provide support for them earlier in the case lifecycle. We have been working with a number of them to understand the specific requirements of early-stage work and to tailor connected solutions that address these needs. We are excited to now bring these solutions to the wider market and see how they will enable firms to transform their ability to deliver efficient and effective services to their clients."
Opus 2 Case Preparation and Opus 2 Counsel are available on a subscription basis to law firms and chambers, respectively. When cases approach hearing, case materials and work product can be seamlessly transitioned to a fully managed project in Opus 2 Hearings.
The new solutions have been launched at the London International Disputes Week, taking place between 9 – 13 May 2022, where Opus 2 are gold sponsors. To learn more about Opus 2 meet the team at the conference stand or visit opus2.com.
About Opus 2
Opus 2 provides game-changing, cloud-based legal technology and services that enable law firms to build the connected digital practices of tomorrow, today. Our solutions allow firms to transform at a pace that fits their business needs, to streamline and connect the different stakeholders end-to-end and deliver greater efficiency, collaboration and insight. Powered by Opus 2, law firms worldwide are delivering innovative, solution-based services that bring their teams, clients and third parties together in a single connected space, so lawyers can focus on what matters most – creating value, differentiation and deeper client engagement. www.opus2.com.
Contacts

Subscribe to our insights
Receive our quarterly email newsletter with the latest news, events, and industry insights from Opus 2.
Complete the form to sign up
By clicking 'Submit' you agree to opt-in to receive Opus 2 Insight quarterly newsletter, and for Opus 2 to process your data as outlined in our Privacy Policy.