Press Release
22 Aug 2022
4 min read
Opus 2 announces next generation litigation case management for investigations in North America

Opus 2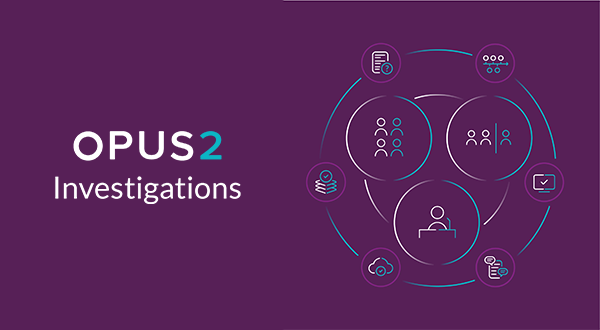 New solution will expand Opus 2's offerings beyond litigation in the US, enabling law firms to accelerate digital transformation across wider practice areas
San Francisco – August 22, 2022 – Opus 2, the leader in cloud-based solutions for the legal sector, announced the next version of its litigation case management solution, Opus 2 Case Management v8, as well as a new Opus 2 Investigations solution. All its solutions are built on the multi-award-winning Opus 2 Platform, a robust, proven, and secure cloud-based technology used by 88% of Am Law 100 and leading regional US law firms.
The new and updated Opus 2 solutions not only enable law firms to work and collaborate efficiently and seamlessly, but also to transform their service delivery and engagement with end clients. New connected portals, advanced dashboards and connectors combined with the rich collaboration and management features already familiar to Opus 2 users allow law firms to build the connected digital practice of tomorrow, today.
Martin Coen, Chief Executive Officer at Opus 2, said:
"We continue to work closely with our clients to understand their needs and re-imagine their working practices to drive greater efficiencies, more effective client engagement, and more rapid innovation in client service. We are excited to be introducing some significant new capabilities in litigation case management and to be launching a new solution for investigations."
For litigation teams, Opus 2 Case Management v8 provides a more flexible and modern user interface, greater customisation, and is more robust and scalable. In addition, it includes new premium features that transform how case teams analyze their matters, prepare for trials, and deliver services to their end clients.
Opus 2 Investigations enables law firms to manage the end-to-end investigations process in one secure, connected space, improving internal efficiency, and enhancing client communication and collaboration. By automating the manual processes for case management and other time-consuming tasks, such as creating and updating binders or chronologies, and streamlining interaction with witnesses and other third-parties, Opus 2 enables quick and easy collaboration in real-time through every phase of the investigation.
The solutions will be previewed this week, August 21-25 at ILTACON 2022 where Opus 2 are gold sponsors, and will be generally available in early 2023. To learn more, meet the team during the conference at Booth #314 in the exhibitor hall or visit opus2.com.
About Opus 2
Opus 2 provides game-changing, cloud-based legal technology and services that enable law firms to build the connected digital practices of tomorrow, today. Our solutions allow firms to transform at a pace that fits their business needs, to streamline and connect the different stakeholders end-to-end and deliver greater efficiency, collaboration, and insight. Powered by Opus 2, law firms worldwide are delivering innovative, solution-based services that bring their teams, clients and third parties together in a single connected space, so lawyers can focus on what matters most – creating value, differentiation, and deeper client engagement. www.opus2.com.
Contacts
press@opus2.com

Subscribe to our insights
Receive our quarterly email newsletter with the latest news, events, and industry insights from Opus 2.
Complete the form to sign up
By clicking 'Submit' you agree to opt-in to receive Opus 2 Insight quarterly newsletter, and for Opus 2 to process your data as outlined in our Privacy Policy.