Blog Post
4 May 2021
5 min read
Making video conferencing tools work for the Legal sector

Opus 2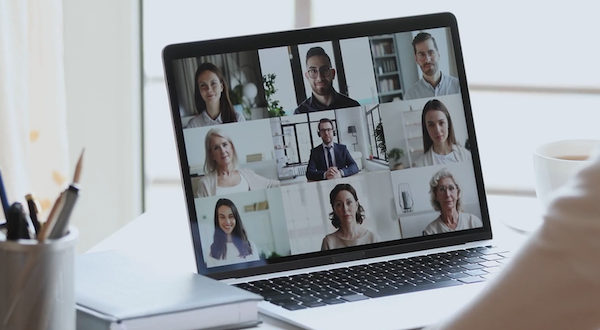 A lot has changed over the past year, not least how and where we work. We have all had to adapt to the situation posed by a global pandemic, and in doing so, we've discovered new ways of working. Video conferencing (VC) is one of the tools that has been essential to many, enabling us to connect and communicate like never before.

The legal sector – like many others – has embraced these changes and the new technologies that have underpinned this revolution. As well as new ways of working, we've also witnessed a dramatic increase in virtual and hybrid hearings, allowing proceedings to continue.
Which VC tools should my hearing use?
While this shift is something that had started to happen pre-COVID, the pandemic has undoubtedly accelerated the move. The video conferencing (VC) provision is clearly a critical component in a virtual or hybrid hearing, so the decision regarding which VC solution to use is an important one.
One of the main hurdles is that none of the tools available today have been designed specifically to meet the unique demands of the legal sector, so we have to adapt them to work for dispute hearings.
These tools have been thrust into the spotlight and have quickly become the lifeblood for many businesses as they have evolved and adapted to new working practices. The tools themselves are also evolving rapidly, with continual developments adding new functionalities and features practically every week.

Keeping up with these changes can be tough, especially if you're already grappling with a heavy caseload, so knowing how to deploy each application appropriately to its environment (or having a tech partner who does), is key.
But what does that entail for the legal sector?
As we know, legal proceedings are highly nuanced featuring different stakeholders, different venues, different security requirements, and different evidence. Given these variations, it's not simply a case of one size fits all.

Each VC tool has its pros and cons regarding suitability to the hearing environment. Each will be good at certain things, but not necessarily everything. So, for every hearing, each of these tools needs to be evaluated to assess best fit.
Translating features into capabilities
To make these general-purpose VC tools work in the legal environment requires time and expertise in the features of each application. In a legal setting, firstly we need to understand the specific requirements of the hearing. Once this basis is established, we can evaluate the various VC options, associated features, and their applicability to each case.
At Opus 2, we are constantly analysing the technical capabilities of the VC tools we use for our clients. Once we identify the best fit for a hearing, our management services ensure smooth implementation, comprising rigorous testing and technical support.
It's important to understand that no single application can accommodate every requirement perfectly yet – there may be some trade-offs required depending on the most important capabilities – but there are some key areas that may impact which platform is right for your case, which we've detailed below:
Virtual breakout rooms
Counsel and judge can be automatically moved to a secure virtual environment with the same platform, then brought back to the main hearing environment.
Waiting room
A waiting room allows you to accept the right people to the hearing at the right time, including witnesses.
Speaker control
It's essential that the main parties have precedence. A hearing could have up to 60 people joining, so you'll need to manage who can say what and when to avoid confusion.
Control of evidence presentation
Depending on the number of people presenting, it may be sensible to control who shares their screen at any moment.
Next steps…
Opus 2 has the requisite legal and technical expertise to make the right choices for any given case, regardless of which VC application is selected. Find out more about our expertise around VC provision for virtual and hybrid hearings.

The next blog in this series will look at why we are completely supplier agnostic regarding video conferencing solutions, and why this approach enables us to ensure that clients use the right platform that most closely matches their requirements. news, product updates, and insight delivered straight to your inbox.

Subscribe to our insights
Receive our quarterly email newsletter with the latest news, events, and industry insights from Opus 2.
Complete the form to sign up
By clicking 'Submit' you agree to opt-in to receive Opus 2 Insight quarterly newsletter, and for Opus 2 to process your data as outlined in our Privacy Policy.