Blog Post
11 Aug 2021
8 min read
Has technology disappeared into use in dispute resolution proceedings?

Opus 2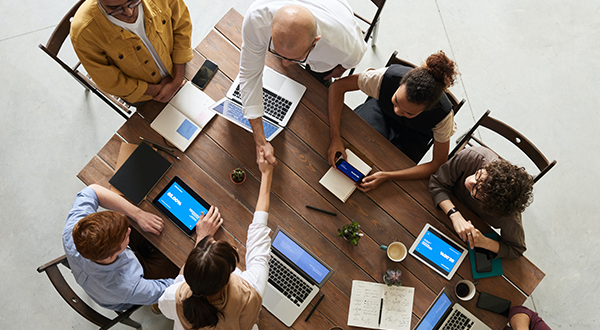 As part of the recent London International Disputes Week (LIDW), Opus 2 hosted a webinar to explore the idea that technology has 'disappeared into use' within dispute resolution proceedings. With contributions from three experienced dispute resolution practitioners, the forum explored the idea in detail along with the impact the pandemic has had on the adoption of technology in the legal sector, complemented by some revealing poll results from the participating audience.
Panel:
Melina Efstathiou, Head of Litigation Technology, Eversheds Sutherland

Sarah McAtominey, Partner, Bryan Cave Leighton Paisner

Stephanie Mbonu, Global Projects & Hearing Manager – International Arbitration Group, Freshfields Bruckhaus Deringer
Nothing new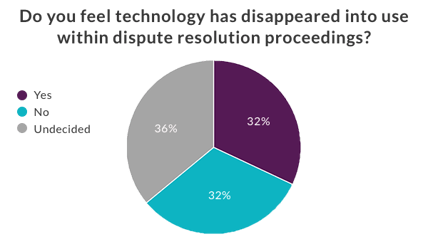 The use of technology in dispute resolution proceedings is not new. Over the past decade, at Opus 2 we have witnessed a steady increase in the adoption of technology throughout the lifecycle of dispute resolution proceedings. The emergence of the pandemic has undoubtedly dramatically accelerated the broader adoption of the technology available - a movement we have been at the forefront of, having supported over 1,000 virtual proceedings, spanning just under 3,000 sitting days and connecting more than 8,000 participants from 65 countries since March 2020.

So, has the tipping point now arrived within dispute resolution proceedings? Has technology become mainstream and achieved such widespread adoption that it has essentially 'disappeared into use'? This was the question posed to the webinar audience at the beginning of the session, revealing a very even split of opinion.
Challenges and opportunities - in equal measure
Like many aspects of our lives, the pandemic has made an indelible impact. In the scramble to evolve, we were forced to find new ways of working, almost overnight, particularly new ways of communicating and collaborating that for many stretched their technical aptitude. This lack of familiarity with new tools and nervousness to embrace the technology is a distinct barrier to adoption, a point that was emphasised by Stephanie: "There's sometimes been a reluctance to engage with the technology… as people either didn't quite trust it or understand it." This reluctance can also lead to an increased need for training and potentially education programmes to promote the desired benefits behind the selected tools.

Planning is critical! This was the unanimous verdict of the panel regarding the success of their virtual hearings. "In my experience, virtual requires thorough planning, testing and adequate investment of time and resources to work effectively," shared Melina. While virtual hearings can appear complex with a large number of constituent parts, significant mitigations can be made against unknown variables by meticulous planning and thorough testing ahead of the hearing.

But with virtual hearings relying so heavily on dependable broadband connections, transitioning to the virtual world should not be taken for granted. To reinforce this point, Sarah shared her experience when she was faced with an application to adjourn a trial because one of the witnesses had no broadband coverage: "The assumption that we will always be able to find a tech solution is perhaps something that we need to guard against," she advised.

Of course, the cost will always be an important consideration. The added value created by technology solutions over and above the cost and time-efficiencies is not always easily evident to partners and clients. The panel was in unanimous agreement – more needs to be done to help stakeholders understand the collateral benefits and take a value-led view of investment in technology. "I think it's on all of us to assist clients in finding the right solution at the right cost because there are technological solutions that can be delivered at the right price for the right case," argued Sarah.

For those adopting the technology - either for their virtual hearings or for case preparation, or both - the benefits can be significant. By removing the need to travel, virtual hearings offer significantly more flexibility and greater availability of potential hearing dates. This can improve the participation of witnesses who may have been unwilling or unable to travel to an in-person hearing. To emphasise the significance of this point, Melina shared her experience when a key witness fell ill in the midst of a virtual hearing. "If this were a normal in-person hearing, the matter would have been adjourned and rescheduled, potentially causing significant delays. But instead, we were able to proceed until the witness returned to full health, with no disruption to the hearing process," she recalled.

The adoption of technology also delivers significant benefits during the case preparation stage. Collaboration and file sharing between teams, colleagues and partners can be seamless regardless of location, and teams of paralegals are able to review documentation much faster by removing the need to manually examine thousands of pages of information. Potential time savings can amount to dozens or even hundreds of hours during the lifecycle of a case. "Firms have reached a point whereby they are adopting tech solutions in litigation much earlier on in the case, so clients benefit from the efficiencies, and so the legal teams find it easier to work," observed Sarah. Meanwhile, at the hearing itself, the need to hang around courtrooms waiting for sessions to begin is also removed. Such efficiencies can directly result in shorter hearings while reducing costs.
Positive environmental impact
Unequivocally, the most impactful benefit of adopting technology in dispute resolutions is the positive impact it has on the environment, both the reduction (or even removal) of travel and printing large volumes of documentation. A recent environmental impact assessment by The Campaign for Greener Arbitrations revealed 20,000 trees would need to be planted to offset the carbon emissions of a typical medium-sized arbitration case. That's the equivalent of all the trees in New York's Central Park – and that is for just one dispute!

The panel were repeatedly drawn back to these sustainability benefits and the alignment to the Campaign for Greener Arbitration, an initiative to reduce the environmental impact and carbon footprint of international arbitrations through behavioural change.
Choosing the right platform
A range of technological solutions currently exist, satisfying different requirements – and budgets! So, a number of factors need to be taken into consideration when choosing the right platform. Understanding your current position and the tools and resources available is a logical starting point, according to Melina: "Start by mapping out your existing technology and identify your gaps. It is that journey that will lead you to identify the most applicable technology solutions that you need."

It's also important to understand the different needs of the various stakeholders who will be using and benefitting from the technology - Partners, Associates, Paralegals and clients will all have different needs and expectations. These have to be understood and set accordingly before any investment decisions are made.

Engaging as early as possible in the process is also advantageous, as it allows you to understand the core reasons a technology solution is being sought and the problems it will address. "I'm now having discussions regarding the various tech platforms and solutions we could use, with case teams at the very beginning of matters to discuss what is available, and what the best options are for that particular matter or mandate," explains Stephanie. This early engagement also helps to inform the decision whether to pursue an in-house development (if you have these resources at your disposal) or whether a third-party vendor will deliver the required solution.
In conclusion
The same question that was posed at the beginning of the webinar was asked again at the end of the session, and it was interesting to see the shift in attitude as the audience clearly felt that, on reflection, the use of technology has become more mainstream within dispute proceedings. We also asked the audience whether they felt that hybrid/virtual hearings were here to stay, and the answer was a resounding 'yes'.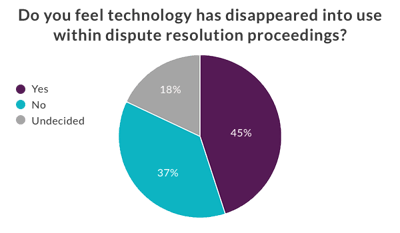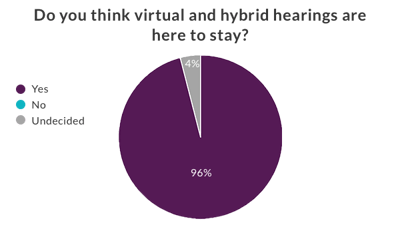 So, while the adoption of technological solutions has increased rapidly – especially since the beginning of the pandemic – it's too early to state that it has entirely disappeared into use within dispute resolution proceedings. Virtual and hybrid hearings are clearly part of the future though, and it is our expectation that hybrid will continue to play a key role in the post-pandemic world – both for hearings and general working style. We will also see a shift to more co-working between colleagues in dispersed locations, as the need to travel continues to decline and flexible working becomes the norm, accelerated by innovative technologies that drive collaboration, both internally and externally.
About Opus 2
Opus 2 provides game-changing cloud-based legal technology and services to connect people, case information, analysis, and data throughout the lifecycle of a dispute. Providing end-to-end support, from instruction to resolution in litigation, arbitration, and transcription, our mission is to support legal professionals in driving cases forward using the latest digital technology and our expert knowledge of legal proceedings. Combined with our services expertise, we deliver electronic trials and hearings worldwide.

Subscribe to our insights
Receive our quarterly email newsletter with the latest news, events, and industry insights from Opus 2.
Complete the form to sign up
By clicking 'Submit' you agree to opt-in to receive Opus 2 Insight quarterly newsletter, and for Opus 2 to process your data as outlined in our Privacy Policy.