Case Study
22 Jul 2021
4 min read
Forward thinking software for a forward thinking chambers

Opus 2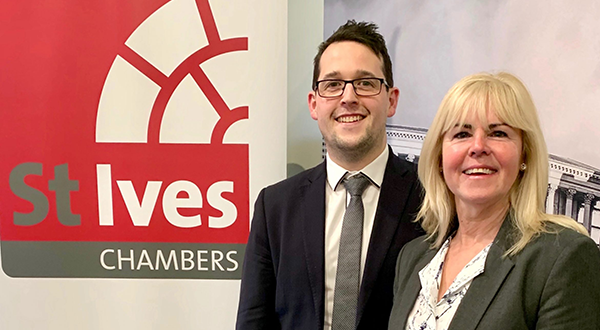 St Ives Chambers in Birmingham is one of the most forward-thinking in the country. They are always looking at innovative ways to improve their performance through a progressive approach, in which new technology plays a major role. Opus 2 LEX chambers management software is playing an important part in keeping them at the cutting-edge of the legal industry.
Jackie Maskew is responsible for HR, finance, facilities, marketing, and IT and has been working in the legal industry for 33 years. Over this time, she has seen and been a part of the changes in both the profession and wider society brought about by technology and sings the praises of Opus 2 LEX in helping them to become a leading light of the legal profession.
"There is no doubt for us that this is software that is not only leading the market but is constantly working hard to ensure that it keeps that position through changing times and challenges," says Jackie.
Leading software
"Like us, Opus 2 LEX is a very forward-thinking organisation. They are engaging and have a real value within our team. Opus 2 LEX is the legal profession's leading software in chambers management, making it easier than ever for barristers' chambers to manage cases, finances and marketing with a move towards a 'paper light' and eventually paperless system. "We have regular and easy access to everyone across the company whenever we need support. They take on board our ideas and you always feel that you are in safe hands and your ideas and suggestions are not ignored."
Easy access
Jamie Brooks, Senior Fees Clerk at St Ives also values the capabilities of Opus 2 LEX: "Not all chambers have grasped what Opus 2 LEX can offer but we recognise and know what it does and its potential. For example, we have been using the data it provides for our regular planning reports for some time.
"Another way in which St Ives chambers has kept up with the field is through an innovative and progressive approach to marketing. Opus 2 LEX has played an important part in this. We couldn't do this without it. It is a vital tool for our business planning and our new marketing team. The information that we can access from Opus 2 LEX reporting is invaluable for us to plan our future journey and direction."
A vital tool
To any chambers thinking of using Opus 2 LEX in the future, Jackie added: "Opus 2 LEX accommodates the needs of all chambers as it is flexible and meets individual demands however much or little they need. It is gently nudging and supporting chambers into the future and not trying to drag them there."

Subscribe to our insights
Receive our quarterly email newsletter with the latest news, events, and industry insights from Opus 2.
Complete the form to sign up
By clicking 'Submit' you agree to opt-in to receive Opus 2 Insight quarterly newsletter, and for Opus 2 to process your data as outlined in our Privacy Policy.