Event
31 Oct 2016
4 min read
Finding change and innovation at Relativity Fest

Opus 2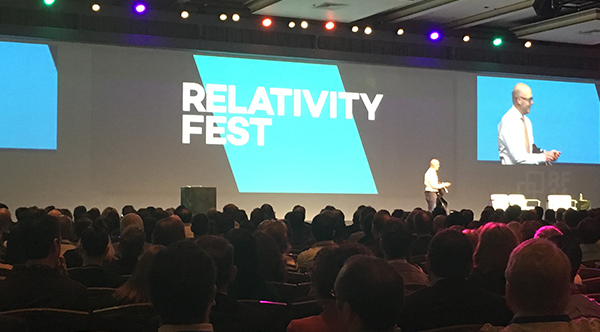 Members of our Opus 2 Magnum team had a great experience reconnecting with clients at Relativity Fest 2016 in Chicago, as well as forging new partnerships. We demonstrated our state-of-the-art software, and learned about other innovations in the legal space. During the keynote address, Andrew Sieja, founder and CEO of kCura, recognised Opus 2 Magnum as a partner that builds great technology to integrate with Relativity. As you can imagine, we were thrilled for the call out in front of thousands of audience members who also got a preview of the integration on the big screen.
The onsite team was composed of Opus 2 founder and CEO, Graham Smith-Bernal; Steve Fleming, chief technology officer; Clare Foley, vice president of litigation solutions; Billy Kelly, head of R&D; and the newest addition to our ranks, Cheryl Wilson-Griffin, US client relations manager who diligently manned our exhibit "pod".
With more than 1,800 attendees and hundreds of educational sessions offered, Fest 2016 made a memorable mark on all who participated. Clare and Steve conducted two sessions geared toward Relativity providers and litigation professionals respectively. The duo packed the room with litigators and support professionals during the "State-of-Art Transcript Management for Relativity Users" session. It seems that the nod from Andrew on the first day piqued a lot of interest as our "pod" continued to have a line of potential business partners from Europe, US, Canada and Asia, who kept Steve, Billy and Cheryl busy as they answered questions about Magnum's perfect complement to the Relativity review platform, which facilitates the next stage of case development from deposition prep to trial.
But it wasn't all work and no play at Fest! kCura is famous for putting on a great show. Our group, along with others, went to the Field Museum of Natural History where they had a face-to-face encounter with "Sue" the largest and best preserved fossil of a complete Tyrannosaurus rex ever found. What a way to kick-off a great party. We were also able to spend some quality time with valued clients and partners at some of Chicago's hot spots.
It was a fun and productive time, and it was obvious that people are looking for change and innovation.
"The audience recognised that we and [Relativity] are two different 'best of breed' products that stand alone, as well as work well together. Now, the floodgates have opened and people see how they can use the two together for seamless review, case analysis and depo and trial prep," said Clare.
Thanks to kCura for putting on an outstanding event. We look forward to next year's Fest.

Subscribe to our insights
Receive our quarterly email newsletter with the latest news, events, and industry insights from Opus 2.
Complete the form to sign up
By clicking 'Submit' you agree to opt-in to receive Opus 2 Insight quarterly newsletter, and for Opus 2 to process your data as outlined in our Privacy Policy.