Press Release
5 Feb 2021
4 min read
Essex Court Chambers & Singapore Academy of Law partner with Opus 2 to hold first-ever virtual mooting competition

Opus 2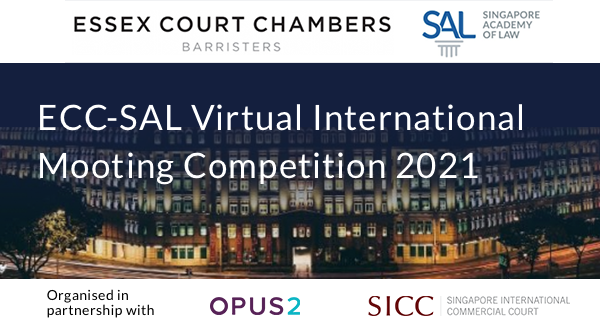 Opus 2's cloud-based virtual hearings platform gives young practitioners a unique opportunity to test their collaborative skills over a series of preliminary and elimination moots in a completely virtual, international legal environment
Opus 2, the leader in cloud-based collaboration for law firms, today announced its market-leading Hearings solution was recently deployed to power an entirely virtual International Mooting Competition. The first ever virtual competition in the history of the event was hosted 5th – 14th January, 2021 by Essex Court Chambers (ECC) and the Singapore Academy of Law (SAL) in partnership with the Singapore International Commercial Court (SICC) and Opus 2.
The annual competition, a prestigious event that draws participation from some of the region's most influential legal figures, ordinarily takes place face to face, but the COVID-19 pandemic precluded an in-person event this year. Instead of cancelling or postponing the competition, organisers decided to conduct it as an entirely virtual, secure and seamless event using Opus 2's Hearings solution.
The International Mooting Competition offers young practitioners in the APAC region an opportunity to develop and demonstrate advocacy and legal reasoning skills in a competitive, real-world environment. The moot problem for the preliminary rounds is based on a fictional case over an international commercial dispute governed by English law to be heard and determined by the SICC, and the elimination rounds are heard as an appeal to the Singapore Court of Appeal. This year's distinguished judging panel for the grand final consisted of The Honourable Justice Ang Cheng Hock of the Singapore Supreme Court, The Honourable Justice Datuk Nallini Pathmanathan, Federal Judge of Malaysia and Co-Head of ECC Joe Smouha, QC. Winning teams of the multi-round competition were offered an all-expenses-paid two-week internship at Essex Courts Chambers in London, one of the leading commercial sets of barristers' chambers in England.
This year's International Mooting Competition involved 21 teams from Singapore, Australia, Hong Kong and India, and concluded with the following results:
Winning team: Chow & Wong (Chow Zi En and Wong Yan Yee)
Runner-up: SAS (Jayakumar Suryanarayanan and Andrea Seet)
Best international team: Clifford Chance, Hong Kong (Charlotte Shieh and Michelle Sum)
Best memorandum: Sage (Eric Shi and Alyssa Glass)
Best speaker: Eric Shi
Before the competition got underway, teams were provided with guidelines on using Opus 2's platform, which provides a seamless path from preparation to hearings—providing a single connected platform for hosting and managing documents and testimonies, compiling chronologies and other exhibits, and preparing arguments for live hearings. Competition participants were given a unique opportunity to test and refine their virtual advocacy skills using advanced, powerful and intuitive technology developed to enhance intensive collaboration among dispersed legal teams and their clients.
"The entire team at Opus 2 is proud to have played an important role in the first virtual edition of this very prestigious international competition," said Arunn Ramadoss, Head of Marketing at Opus 2. "in the past year we have witnessed the global legal community adapt quickly and show incredible resilience in the face of unprecedented disruptions and uncertainty. Experienced and newly qualified practitioners are discovering that the right technology and services, tailor-made for lawyers, can help them work more efficiently, collaborate more effectively and produce the best possible outcomes for clients—even when impacted by a pandemic."
"SAL values its long - standing relationship with Essex Court Chambers. Together, our team has organised this annual mooting competition for over a decade and it is testament to this excellent collaboration that the competition continued to take place this year even amidst the disruption and halt to international travel caused by the coronavirus pandemic.," said a Singapore Academy of Law spokesperson.. "In spite of the obstacles we were determined to go ahead with this year's competition and leverage technology developed specifically for remote hearings," added the SAL spokesperson "The result was something entirely different from other competitions, and a complete success. It was encouraging to observe how easily participants were able to adapt to using the Opus 2 platform and focus on the business at hand. Collaborating with the Opus 2 team to make sure the competition ran smoothly was eye-opening and a real privilege. We are impressed not only with their technology but with the expert support they provided at every stage of the event."
"The ongoing COVID-19 pandemic has forced practitioners around the world to adapt to the challenges of virtual advocacy," said Stuart Cribb, ECC barrister and member of the organising committee. "Hosting the ECC-SAL Mooting Competition is an important part of Essex Court Chambers' proud history of supporting the development of junior advocates in the region, and we are delighted that we have been able to continue that tradition with the tournament's first virtual edition. We are extremely grateful for the support Opus 2 provided in hosting the competition this year. Their virtual hearing platform operated flawlessly, and their contribution to the success of this year's tournament cannot be overstated. We look forward to continuing that partnership in the future."
About the Singapore Academy of Law
SAL is a promotion and development agency for Singapore's legal industry. Our vision is to make Singapore the legal hub of Asia. SAL works with our stakeholders to set new precedents of excellence in Singapore law through developing thought leadership, world-class infrastructure and legal solutions. Our mandates are to build up the intellectual capital of the legal profession by enhancing legal knowledge, raise the international profile of Singapore law, promote Singapore as a centre for dispute resolution, and improve the standards and efficiency of legal practice through continuing professional development and the use of technology. As a body established by statute, SAL also undertakes statutory functions such as stakeholding services and appointment of Senior Counsel, Commissioners for Oaths and Notaries Public. More information can be found at www.sal.org.sg.

About Opus 2
Opus 2 provides game-changing, cloud-based legal technology and services to connect people, case information, analysis and data throughout the lifecycle of a dispute. Our secure platform, tailor-made for lawyers, provides a connected and flexible way of working. Case teams and clients can log in to access a shared, centralised set of documents and collaborate from anywhere in the world and at any time, enabling seamless and meaningful communication and interactions. Combined with our services expertise, we deliver electronic trials and hearings worldwide.
For more information about the Opus 2 Hearings solution visit: https://www.opus2.com/hearings.

Subscribe to our insights
Receive our quarterly email newsletter with the latest news, events, and industry insights from Opus 2.
Complete the form to sign up
By clicking 'Submit' you agree to opt-in to receive Opus 2 Insight quarterly newsletter, and for Opus 2 to process your data as outlined in our Privacy Policy.