Article
21 Feb 2017
5 min read
Catching up to the future—the emergence of electronic courtrooms

Opus 2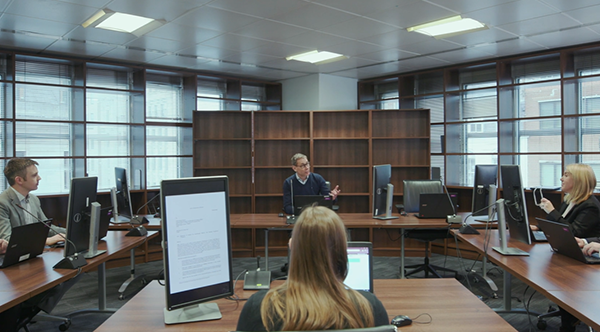 Electronic courtrooms are becoming increasingly popular to those who want a more streamlined and efficient method of conducting legal procedures. Whether it is decreasing the amount of paper that is shuffled about or operating in a fully integrated high tech space complete with all the bells and whistles of the modern litigation tech world, this model is becoming the new reality.
As environmental awareness continues to be at the forefront of modern society, it is no surprise that the "paperless" initiative is gaining the attention of the litigation market where reams of paper, both in and out of the courtroom, are handled daily.
Traditionally, during the eDiscovery/disclosure phase, teams print out countless copies of the key documents which are then placed in sets of binders or trial bundles and circulated amongst the team. As the bundles, binders and witness kits get updated, more paper is printed out. We estimate that for the average 20-day litigation trial in the UK around eight printed copies of up to 80 lever arch files, each with up to 400 pages will be required.* That's over 200,000 printed pages! This is an incredible waste of resources and time. This process and waste can be avoided utilising a "paperless" environment facilitated by the Opus 2 Magnum platform.
Let's look at what takes place in the months, and sometimes years before a trial begins. Case analysis teams are busy sorting through key documents from the post-discovery phase, document management, and ultimately creating the bundle or witness kits that will be presented during crucial stages of the matter. Using advanced case analysis software technology tools such as those found in Opus 2 Magnum greatly increases efficiency by streamlining these steps and facilitating important real-time collaboration and access to the most current content available. Magnum's features allow the team members to collaborate, annotate, hyperlink documents and exhibits, and build a timeline that tells the story of the case. This is accomplished all in a single, secure workspace using a comprehensive toolbox.
Finally, the case prep is done, now it's time to step into the hearing room. Instead of transporting volumes of paper and cumbersome binders, everything you and all parties involved need, resides on Magnum's secure cloud-based platform, which makes the shared workspace accessible to your team and other authorised users whether they are onsite or remote. Documents, transcripts, web research, bundles and other work product is within reach with a simple click of a button. Evidence stored on the Magnum platform is electronically displayed on monitors that are strategically placed in the room, affording everyone the opportunity to view the information as it is presented. Of course, annotations made on the evidence remains private. In addition, your team can privately collaborate with each other as the hearing progresses.
Imagine the implications during the trial when a lawyer is able to discretely gain valuable information or insight from colleagues or experts, regardless of location, via their laptops. The exchange remains private and opposing counsel are none the wiser. This is what can be expected when using Magnum's software and services in the courtroom.
Consider this example of the power of Magnum in the modern day electronic courtroom:
During a trial, a portion of a witness's testimony raises a red flag as authorised users view a streaming transcript of the text. Magnum's realtime transcription allows you to review testimony and pinpoint the section of the transcript in question; you can then immediately and privately consult with others on your legal team whether they are in the room or not; and the fast search and retrieval of documents, exhibits or witness statements that support your theory appear before your eyes.
The piece de resistance is that all these remarkable capabilities can unfold in a state-of-the-art, fully integrated high-tech hearing room that incorporates Magnum's software, thus providing incredible technological capabilities that traditional hearing rooms lack. This becomes the backbone of the electronic courtroom of the future.
Opus 2's revolutionary integrated hearing rooms are bespoke and built to fit the requirements of the setting and needs of the parties involved, whether it be on a temporary, semi-permanent or permanent basis. These high-tech spaces integrate everything one would need to accomplish a smooth, efficient hearing. Fit for purpose hearing rooms include interpretation booths, strategically-positioned monitors to enhance sight lines, smart desks and advanced audio-visual equipment. Both litigators and judges have found the integration of software, a wireless environment and interpretation capabilities extremely beneficial. In fact, prominent legal systems around the globe have adopted this model. Opus 2 has created technologically advanced venues in Asia, the Middle East and the UK. Just recently, we built the first pop-up hearing rooms of its kind on US soil located in Miami and New York City.
Another compelling aspect of the deployment of a single platform and infrastructure inherent to the electronic courtroom is the cost sharing for all parties. Integrating the technological functions into a single interface, legal teams can focus on the issues at hand rather than the usage of their own system in court. Everybody wins.
Now, it's true that not all legal professionals have fully embraced the paperless mode of conducting litigation and legal procedures. However, arbitration is one of the proving grounds on which this technology can shine, especially in the US where many companies are turning to arbitration rather than expensive and lengthy trials.
It is evident that the electronic courtroom is indeed the wave of the future.
If you want to learn more about how Opus 2 can best serve your case prep and e-litigation needs, please contact us.

Subscribe to our insights
Receive our quarterly email newsletter with the latest news, events, and industry insights from Opus 2.
Complete the form to sign up
By clicking 'Submit' you agree to opt-in to receive Opus 2 Insight quarterly newsletter, and for Opus 2 to process your data as outlined in our Privacy Policy.